5 Reasons We're Happy "Brooklyn Nine-Nine" Was Picked Back Up
Last week, it was announced that Fox's Brooklyn Nine-Nine was being cancelled after this fifth season finale. Among many others in the Twitter-sphere, I was a little distraught.
I started watching this show in November 2017 and quickly got caught up on the four and a half seasons already available on Hulu. Since then, I have rewatched all the episodes two more times and watch the new episodes each week. It's a show I can play while working on things since I've seen it all multiple times, and it never fails to put me in a good mood. I was sad that I just discovered this show and then it was being taken away.
If you are on Twitter frequently, you probably saw people freaking out about the cancellation. Well, other production companies noticed too, and in just 24 hours the show was picked up by NBC! It was a roller coaster of emotions that all happened before this article could even be published. The internet is happy again, faith in humanity has been restored, and the cast of Brooklyn Nine-Nine has been showing nonstop love to their fans since the announcements.
That being said, there are many reasons why this show should not be cancelled. Here are just a few of them:
1. It Is Hilarious
It is a cheesy, goofy show that always makes me happy. I love that it's a "clean" comedy. Things don't need to be raunchy to be funny and I think this show exhibits that well.
2. It Deals With Important Issues
Yes, it's hilarious, but it also deals with real-life issues. From race, to LGBT characters, to views on cops, to dysfunctional families, to last week's episode with a shooter in New York, it deals with these things in a way that shows their importance while maintaining the comedic-feel of the show.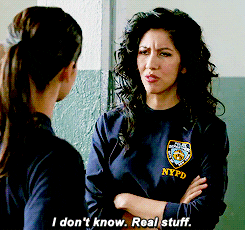 3. LGBT Representation
There is not one, but two main characters who identify as being part of the LGBT community. It's brought up occasionally, but never goes over the top. It does a really great job of incorporating the "normalcy" of their lives, while still talking about some of their struggles when necessary. I know a lot of people on the internet were grateful for the episode in which Rosa came out as bisexual.
4. The Diverse Characters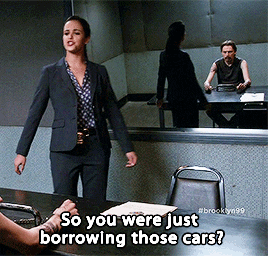 I love the diversity of the group. With the strong female detectives, the different races present, and different sexual orientations, there's a character that almost everyone can relate to.
5. Charles Boyle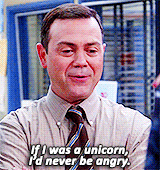 Yep, Charles gets his own point. He is my favorite and cracks me up! I love all of them, but I once said "If Charles and Amy had a baby, it'd be me." The clumsiness and awkwardness of Charles is just too relatable. I can't imagine not getting anymore weird Charles phrases, so this show can't be cancelled!
Mood:
Do you watch Brooklyn Nine-Nine? Are you excited it got picked up by NBC? Let me know below!